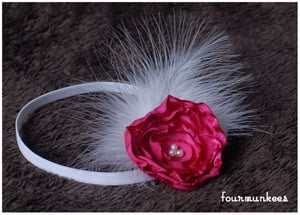 $

14.00
darling.
that's the first thing I think when I see these floral headbands. so sweet and delicate.
flower is completely handmade out of satin. 3 tiny pearls adorn the center and a fun, whimsical feather peaks from the back.
medium size flower approximately 2.5" big.
please specify size of band when ordering.
band sizes are as follows:
11" newborn
13" 3-12 months
12 months to 3 years 17"
3 years to adult 17.5"
please do not allow infant/baby/toddler to sleep with this headband.
shipping is included in the cost of the piece.
because of the handmade nature of these flowers each will vary. you may not receive the exact piece pictured.